Meet Dr. Katie McAvoy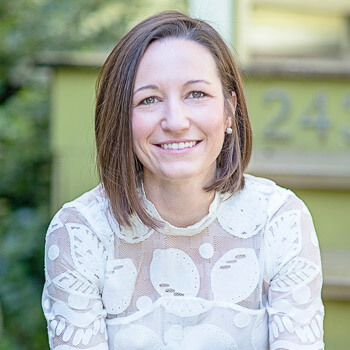 Understanding What Chiropractic Can Do
A car accident at age 15 left Dr. McAvoy with a broken back and a doctor's recommendation of surgery. Her mom, a chiropractic patient, said they should try her chiropractor first. "He told me, 'Maybe you will need surgery, but why start with that?' I began seeing him and was able to return to a regular lifestyle." She attended UW-Madison, and after graduation, she considered psychology and psychiatry before deciding on the right path. "Chiropractic had been in my life for so long, and it's always been important to me."
Training and Skill Development
To earn her Doctor of Chiropractic, Dr. McAvoy attended Palmer College of Chiropractic. She was actively engaged in learning more and benefiting from her time there. The activities she participated in included the sports council, work study, student council, clinic abroad (Brazil) and lecture tutoring. She also shadowed many chiropractors, absorbing as much information as she could. With a strong work ethic, she knew that her tireless dedication would pay dividends in the future. She was the recipient of the Palmer Achievement Award and graduated summa cum laude.
During her time at Palmer, she learned many different chiropractic techniques, studying how to diagnose patients and give them the best adjustments for their particular needs. She's also completed advanced training in the Graston Technique and soft tissue rehabilitation. "The chiropractic adjustment is the most important part, but it's critical to use many methods to treat each patient effectively."
Serving the Franklin Community
Dr. McAvoy sees people with a variety of concerns. A former sufferer of neck and upper back pain, she enjoys treating patients with these same problems. Migraine and chronic headache sufferers have also found relief in her healing hands. "If you have migraines, you can't think; you can't function. People come in crying who haven't gotten any help from other medical avenues. When they start getting adjusted, our patients say they wish they'd have come in sooner!" She understands that a combination of factors can affect these types of pain and takes an in-depth, layered approach to treatment.
CHIROPRACTIC CARE »
Enjoying an Active Family Life
As a full-time chiropractor, mom, wife and business owner, Dr. McAvoy leads a busy life. It helps her understand her patients and how pain interrupts the delicate balance in their lives. She and her husband have two young children Sean and Sloane. They love to spend time together outside, enjoying all Wisconsin has to offer. Dr. McAvoy is a runner and also likes to ski when the weather permits.
Find out what we can do for you by contacting us today! Same-day appointments are available.

Franklin Chiropractor Dr. Katie McAvoy | (414) 525-9500